This past summer I took part in a writing journey, unlike anything I had done before. I was joined by ten other educators with the sole purpose of writing a book for educators. Each one of us brought our unique teaching experiences and perspectives while focusing on the idea of overcoming challenges in schools. The end result was, or at least we hope, a resource teachers and administrators alike can pick up and use in their practice. Weaving stories with research and heavy doses of practical advice, this book tackles many of the challenges all educators face in their schools. 
For me, I wanted to tackle the notion of "traditional libraries" and how we can transform these spaces into the very lifeblood of a school. This was fun to write but also challenging because I wanted it to appeal to more than just school librarians. Regardless of your role in a school, I hope my chapter pushes people to think differently about how a library can and should function within a school. 
A short excerpt from my contribution to the book:
Close your eyes and picture your earliest memory of your school library. What do you remember?

I have three memories that stick out clear as day. I think about my first elementary school where I attended for Kindergarten and 1st grade and honestly, I can't recall a single memory of my school library. Not one thing. Try as I might, I can't picture what it looked like, who the librarian was, or even a single book I must assume I read or was read to. In speaking with my mom, she assures me we did, in fact, have a library in my school. 

Moving into a new elementary school in 2nd grade I recall my librarian like it was yesterday. She was this sweet old woman who always had her reading glasses on a chain around her neck and cardigan sweater around her shoulders. She was the perfect image of the stereotypical librarian. I loved her. If it wasn't for her, I doubt I would have read a book outside of my classes. The world of fantasy in Brian Jacques' Redwall books and the mysteries of The Boxcar Children ignited my love of reading. To this day I credit her for putting Hatchet in my hands which led to more than one adventure with my brothers growing up. Any adult who can ignite a love of reading in a kid will always be an inspiration for me as an educator and a father of two sons with and on and off relationship with reading. 

Through my junior high and high school years, the library was a place that held almost no value to me. I never went to the library unless required to grab a book for research or serving some punishment for a misguided deed which required me to spend some time shelving books. Much like my elementary experience, I can't picture the librarian but do recall where the non-fiction section was as I spent a fair amount of time shelving books there. 🙂 

Looking back, I might be one to argue we don't need school librarians since clearly they had little impact in my life over my K-12 experience. If kids leave school without knowing their librarian or only seeing it as a space for punishment, we are doing something wrong. Furthermore, how can we create spaces where kids are supported beyond just being given a great book? While getting kids excited about reading is and should always remain the cornerstone of a great library, can they be more? Too many school libraries are falling short in fulfilling their potential to be spaces not only we need but those in which our schools could not survive without. 
While that is but a short section from my chapter, I did my best to share how we can tackle the challenge of making libraries not only relevant but critical in the work we do in schools. The book will be available this winter and I encourage educators to get a copy and dig in. Know that not only will the book be a valuable resource but all proceeds from the book will benefit the great organization The Will to Live Foundation.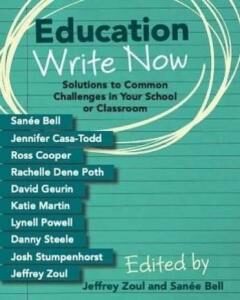 Be sure to check out the previous blog posts (Jennifer Casa-Todd, Lynell Powell, Rachelle Dene Poth) about the book and keep an eye out for the next post from Jeff Zhoul.