For anyone who knows me, you know I run every day. By "every day" I mean every single day since January 12th, 2012. Yes, I have not missed a single day of running since that date and up through the time of this post.  Many people ask what my minimum is and believe it or not there is an official organization that tracks run streaks. According to them, the minimum is 1 mile a day. For sure I've had days where I run a "streak saving" 1 miler but over my 8+ years I have averaged around a 5K a day. My longest run was 50 miles and I've had countless half marathons and marathons in the mix. 
During my 8 years of "streaking" I've been lucky to travel due to work as well as trips with my sons during the summer. About 5 years in, I noticed I had run in many of the US states and made it a goal to run in all 50. This June I completed that goal with a final run trip to knock out the last 4 states on my list. It has been a journey I will keep with me the remainder of my days on this planet. However, we all know how memories work so I wanted to put in writing my experiences and highlights from the 50 states. 
I know many readers are not runners or even travel much. Sorry but this post may be more for me than anyone who reads it. 🙂
Alabama
I was attending Space Camp in Huntsville, AL as part of my tour as Illinois Teacher of the year. What I recall of running here was it was hot and humid.
Alaska
This was in my top 3 runs of my lifetime. I was running on the Coastal Trail in Anchorage and was fortunate enough to get a glimpse of Denali in the distance.
Arizona
I was in Arizona more than once to run and each time I found myself there in the summer. For those who are curious, running outside in Arizona in the summer is brutal.
Arkansas - Tennessee
Arkansas and Tennessee were crossed off my list on a bridge run with my sons in Memphis that spanned the Mississippi River.
California
I've run in both San Diego and San Francisco in California. I will never forget running across the Golden Gate Bridge on a 16 mile run as I was training for my first marathon. Yes, the hills in San Francisco are no joke.
Colorado
I've run in Colorado a handful of times in the Denver area. However, my favorite run was in the Garden of the Gods. Truly breathtaking views.

Connecticut / Rhode Island
I was up in Boston working on a writing project and took a half day trip down to Westerly, RI for a 5K run. During the run I crossed the Pawcatuck Bridge into Stonington, CT. Two states checked off on one run!
Delaware
I wish I had a picture from Delaware where I ran in a small forest preserve right in the northern part of the state. Then again, it feels a little bit like Wayne's World...Hi, I'm in Delaware...
Florida
Florida is another one of the states I've run in multiple times. Yet, the most memorable was being on Miami Beach and running with The Raven. If you don't know his story, look it up.
Georgia
A great run in Georgia was on the campus of Georgia Tech University. I really enjoy running on college campuses and this was a really nice one early in the morning.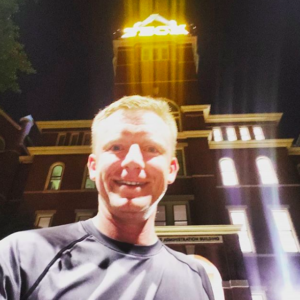 Hawaii
Running on the beach in Hawaii...enough said. 🙂
Idaho
I was in Idaho for a grand total of 10 hours as I was driving from Salt Lake to Hood River. I stopped along the way for a 5K along the Snake River Canyon Trail in Twin Falls, ID. Stunning backdrop to run with.

Illinois
Since I live in Illinois, nearly all of my runs these past years have been in the Land of Lincoln. To pick one run was tough but running a 50 mile trail run with my dad and older brother was pretty great.
Indiana
I've run in Indiana numerous times in the Indianapolis area over the years. However, doing a Tough Mudder was hands down a run I will never forget.
Iowa
Sadly, I don't have any real memorable runs in Iowa. For being as close as I am to Iowa, I've only ever really run in neighborhoods near hotels where I was staying. 🙁
Kansas
I was in Kansas visiting both Kansas University and Wichita State University with my boys and knocked Kansas off my list. I don't remember anything beyond running the streets near our hotel in Lawrence.
Kentucky
I've run in and around Louisville a few times but my favorite was running with my youngest son Kaleb. We had a great 4 mile run across the Ohio River into Indiana and back to Kentucky.
Louisiana
I crossed Louisiana off the list with a 5K run through the French Quarter early in the morning. I doubt I will ever forget the smell...it was not pleasant. 🙂
Maine
Running in Acadia National Park was a top 5 run of all time. My boys and I were camping there and I ran every morning in and around our campsite on the coast. It is a truly beautiful part of the country.
Maryland
I was at the Discover Channel headquarters for a work event and got to run in downtown Silver Springs, MD. It was a really clean and nice urban area to run in.
Massachusetts
I've run through the Harvard Yard as well as around the MIT campus near Boston. However, my favorite run was down town Boston and past the Boston Marathon finish line.
Michigan
Growing up my family would often go to the Warren Dunes State Park and run up and down these massive dunes. A few years ago I brought my own family along with my brothers family back to the park. My kids loved it as much as I once did and the running was solid as well.
Minnesota
Downtown Minneapolis is a great place to run but my favorite run was in Winona, MN near St. Mary's University. Hit some roads but also some really nice trails through the woods.
Mississippi
I don't even remember the town or where I was in Mississippi when I checked this state off. All I remember was I was down in Memphis and took off one day across the border to get a quick 5K in at a neighborhood park.
Missouri
I've run many times down in the St. Louis area over the years. My favorite run was an early morning 8 mile along the banks of the Missouri River. I ended up at a bridge that had a section of fencing covered in locks. I'm sure there is a story there but I loved the image.
Montana
Montana is one of those places that you can't shake from your soul when you visit. The natural beauty and majestic scenes are heaven to me. My favorite run was with my dear friend Tom near his cabin in Helena.
Nebraska
One year my goal was to break the 20 minute mark on a 5K. Omaha was the site of me finally breaking that barrier.
Nevada
Las Vegas is not my favorite place to run. Having been there a couple times, all the runs involved dodging early morning drunks and trying to avoid stepping in something gross on the streets or sidewalks.
New Hampshire
My boys and I were driving from Maine to Vermont and I jumped out for a quick run along the way. I highly recommend visiting the northeast for good running and good beer. 🙂
New Jersey
I can recall two runs in New Jersey and there were two very different experiences. One was in a hotel workout room in Newark and the other was through the campus of Princeton. You can guess which one I enjoyed more.
New Mexico
While staying with friends near Los Alamos, I was able to run on desert trails right behind their house. Very hot running but plenty to look at.
New York
While I have run in downtown New York City as well as in Central Park, I much more preferred running in Fall Creek Gorge in Ithaca. The gorges are so cool and the campus of Cornell University is right off a postcard.
North Carolina
After flying into Charlotte, I grabbed a rental car to get down to Columbia for a conference. While driving there I hopped off on an exit and did a quick mile in the state of North Carolina. I don't recall where I was other than I was in the state. 🙂
North Dakota
While in Bismark, my boys rode their bikes while I ran along the Missouri River. Another really pretty place to visit and run.
Ohio
Ohio is another one of the states I was driving through and never actually stayed a night in. While heading across the state, I pulled off the highway and did a quick run to check it off the list.
Oklahoma
While staying in Oklahoma City, I ran around the downtown area and went by the Oklahoma City Bombing Memorial. I later visited the museum and it remains one of the most powerful museums I've visited.
Oregon - Washington
This was a "two-stater"run as I crossed the Bridge of the Gods over the Columbia River between Oregon and Washington. This run was big because these were the last two states in my pursuit of running in all 50 states.
Pennsylvania
I run in Philadelphia a handful of times and I love it every time. From running up the "Rocky Steps" to exploring the historical sites around town, Philly is a great running spot.
South Carolina
I will always remember running on this river front trail in Columbia as it was the first time I saw "Watch for Alligators" signs.
South Dakota
I was in Sioux Falls with my boys and intended on running outside but it didn't happen. Storms kept me on the treadmill in the hotel but I got the miles in.
Texas
I sadly don't have a very memorable run while visiting Texas. Both times I was in the state I ran on hotel treadmills or on the streets right around the hotels due to either weather or schedule.
Utah
Some great views on the Bonneville Shoreline Trail just outside of Salt Lake City. The switch backs killed me and the elevation was not something I was prepared for. 🙂
Vermont
Vermont was a great location to run. I was fortunate to be able to run in Burlington near Lake Champlain which was another postcard worthy location.

Virginia
I've run in Virginia a few times but my favorite run was while staying in DC. I ran through the mall in DC and then out across the Potomac into Arlington.
West Virginia
This is not a running picture but I love it. I was able to run around the New River Gorge area in between white water trips with my boys. West Virginia is really pretty countryside.
Wisconsin
I've made the trip north across the Cheddar Curtain numerous times. I make it a point to find a trail or park to run in if I can.
Wyoming
While camping on the shores of Yellowstone Lake, I was able to get a great early morning run while the family was still snoozing in the tent. Yellowstone National Park is one of those places everyone should visit.
Washington DC
While not technically a state (yet), Washington DC is my favorite city to run in. My favorite is a little 8 mile route that takes me around the mall and past all the monuments.

Brazil
In 2013, I was lucky enough to travel with a Global Education Fellowship to Brazil. While running in Sau Paulo was not my favorite due to getting lost, running along Copacabana Beach in Rio was truly amazing.
Other memorable runs over the years
-60F Run
Yes, I ran outside in Northern Illinois during some of the polar vortex weather patterns. One particular day the windchill hit the negative 60 degree mark. I was chilly. 🙂

First Marathon
I will never forget training for and running my first marathon with my father. While my time was not great it is one of those memories I will not soon forget.
Saucony
Over these 8+ years, I've gone through a lot of shoes. Saucony has been there literally every step of the way. When you find a shoe that works, don't change it.