If you don't teach in a classroom, you are out of touch with what classroom teachers are dealing with. This is a statement people will argue over and defend on both sides. Consultants will charge you obscene amounts of money to come in and tell you how to do a job they have not done in years or decades. School book clubs are formed around books written by many of these same individuals. We are inspired by keynote speakers only to have the message fall flat when we return to the reality of our own districts or schools. Personally, I always prefer having someone tell me how to do my job if they are doing my job and doing it today.
For me, I am ending my second year "out" of the classroom and in my new role as a Learning Commons Director. For those who don't know what that means, as Learning Commons Director I oversee the video production lab, maker space, fabrication lab, library and occasionally have the hygiene talk with stinky JH boys. As I near the end of the second year away from my own classroom, I have to say, I am beginning to lose touch. Yes, I work with teachers and students every day. Yet, I have not had to live with the new instructional demands or teaching initiatives put on teacher's shoulders. Many days I don't sit down at my desk or get a lunch period because I am teaching lessons, talking books or learning which Beyblades are better for attacking or defending. However, I have also not had to meet grade deadlines, respond to angry parents or have my work scrutinized by state data or growth measures. Bottom line, in just two years away, I am losing touch with the day to day grind of being a classroom teacher. Heck, on most days I can use the restroom when I feel the need instead of waiting for a bell.
Now, there are those that will say if you were once a classroom teacher, you are always a classroom teacher. They are wrong. The pace of change in the classroom right now is moving at a breakneck pace. Teachers who take a one year leave of absence come back to a system that has evolved and moved on. New instructional strategies, resources and initiatives are constantly changing the landscape of education in our schools. Teachers in the classroom struggle to keep up, so how can those that are not in the classroom even hope to?
With that in mind, I have a few things I have to keep in mind to make sure I don't completely lose touch and become another one of "those" people.
Work With Kids
This should be a no-brainer, but it is critically important. If I were to go into an admin position to hide in an office, I am out of touch. If I wrote a book about being a relevant educator and don't regularly work with students, I am out of touch. If I pontificate that kids deserve it, then I need to be with kids or I am out of touch. If I travel the country on a speaking tour but can't handle a classroom of 3rd graders doing a project, I am out of touch. It is really that simple. We all went into this business for the kids and it is with the kids we must be.
Be Humble and Honest
Some of the best and most influential educators I know are humble and honest. This includes those in and out of schools. Dean Shareski is someone I find incredibly humble, honest and one I see as very much in touch with the realities of teaching despite not being in a classroom. Another example would be Amber Teamann who is an administrator I have great respect for. Through every interaction I have ever had with her, she is a humble ambassador for what is right and good for kids and her teachers.
Social media has made this element tough in recent years. There is a great deal of noise that distracts all of us and pushes many to lose touch. If I am purely using social media to promote myself and my work, I am out of touch. If I share something, get pushback from teachers and don't engage in conversation, I am out of touch. If I think I can inspire educators with lame quotes aimed at gaining RTs, I am out of touch. Social media can be a powerful method to stay in touch with those doing the real work if used for connection instead of just self-promotion.
Listen to Teachers
Anyone who is making decisions or leading PD that impact teachers should be listening to teachers. This is especially true for administrators, parents, and consultants who all have ideas about what teachers should be doing. Whether I am consulting with a school, presenting at a conference or leading a PLC meeting in my building, if I don't listen to the teachers I am out of touch. The biggest issue all of us out of the classroom have is forgetting what teachers deal with and are going through. It's not rocket surgery to know the best way to tackle this is having regular conversations with teachers and keep a finger on the pulse.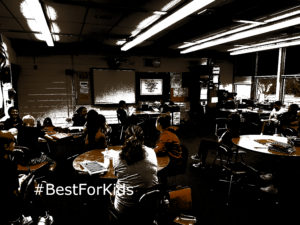 I love my role in the Learning Commons but I recognize the very real danger of losing touch with the classroom teacher role. In my role in my building and the various groups outside of my school, I am lucky enough to work with, I want to always be someone who is in touch with teachers and more importantly with the kids. The hallmark of someone who has lost touch is when the phrase "best for kids" is a cute quote on a landscape image and not the foundation of the work we do.